Here is how you can get ranked on Google with ease
No one can buy Google organic rank, but with a little time and strategy, you can boost your ranking on the search engine's results page (SERP) without investing a dime. On Google, there are many ways to get ranked. Here are a few ways to improve your search ranking on Google.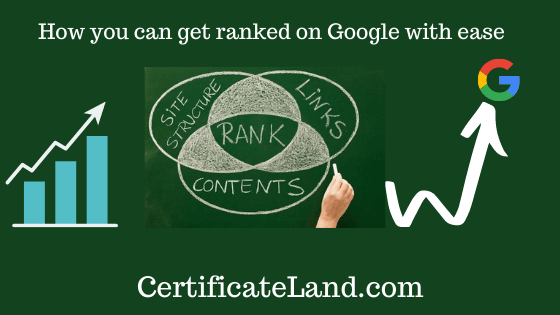 1.

 

Improve the user experience of the website: 
According to a report by SEMrush on ranking factors, the top four ranking factors are website visits, time online, pages per session, and bounce rate. All four of these are directly linked to your website's experience with your users. So, you need to optimize your website correctly. Because if your website is easy to use and provides useful content, the user will stay longer. You will also get a good number of users, which will help improve your Google search ranking.
2. Improve the Website On-Site SEO: 
One of the best ways to improve your Google rankings is On-Page SEO. That is because you can optimize your page in a short time, and within days, you will start to see the Google ranking improvement. Since On-Site SEO is one of Google ranking factors, if you optimized it adequately, it can significantly impact your page's ability to rank. You need to improve your title tag, URL, Content of page, and Image alt text for each web page.
3. Content optimization: 
One of the easiest ways to increase traffic and improve your search ranking is to provide high-quality content on your website. In fact, 57 percent said on-page content development was the most efficient SEO tactic in a recent poll of marketing professionals. First, you need to choose your keywords. After then based on the keywords, you need to optimize your website content. This is a time-efficient, cost-effective, and foolproof way to increase your organic search rankings directly.
4. Link building:

 
To rank higher in Google, you need links pointing to your site. Link building describes activities in search engine optimization to increase the number and quality of inbound links to a website to increase the ranking of that page or website. So, it would be best if you created high-quality backlinks based on your targeted keywords. Increasing the number of high-quality links that lead to your website will significantly improve your chances of ranking well. Search engines use links as a core ranking signal.
5. Improving the site speed: 
Website speed is also a ranking factor. Google has said time and again that a fast site allows you to rank higher. Website Page Speed is the amount of time a webpage takes to load. Page speed is also important to the user experience. So, it would be best if you made your site is as fast as possible. To see precisely how fast your website loads, you can use the Google PageSpeed Insights tool. This tool also gives you some ways to speed up your page load time.

6. Internal Linking: 
Internal links help you establish proper site architecture. It also connects your content and gives Google an idea of the structure of your website. Internal linking is one of the most important parts to support your SEO by driving traffic to another page. It will allow users to navigate a website properly. If you do internal linking properly, it will also improve your Google search ranking.
7. Broken links fixing: 
One of the best ways to increase traffic and build your website's authority is to have quality links on your website. But if those links bring up a 404 error, that could hurt both your user experience and your search rank. You need to follow regular your backlinks, and if you find any broken link, you need to fix it as soon as possible.
8. Anchor Texts Optimizing: 
 To get your website to the top of Google search results, anchor text optimization is another crucial step. By using the anchor text, it helps Google understand what the page is about. There are different types of anchor texts like Exact Match Anchor Text, Partial Match Anchor Text, Naked Link, Generic Anchor Text, Branded Anchor Text. So, if you do the proper anchor text for the website, it will help you to increase the Google search result ranking.
9. Google My Business Listing Optimization: 
Another important step to getting ranked on top of Google's organic search results is ranking higher on local search results. Optimizing your Google My Business listing, this is the best way to improve the local ranking. 
10. Improving Social Signals:

 
As a direct ranking factor, Google doesn't accept social signals. But there is plenty of evidence that the ranking is correlated with social signals such as likes and shares. So, we could say social media plays a significant role in improving the SEO ranking. Activity on social media increases visibility, which may increase the traffic further. So, you have to optimize all the social media profiles properly and catch your followers at the right times; you will need to share important posts timely.
These are some of the easiest ways to help you increase your rankings and get ranked on Google's first list.