Budget-Friendly Living: Cheap Apartments for Rent in Phnom Penh Cambodia
Phnom Penh is Cambodia's capital, with many job opportunities. Many people move to Phnom Penh and need budget-friendly apartments for rent. There are many affordable apartments for rent in Phnom Penh, Cambodia, which can help with cost-saving benefits to the residents.
For more suggestions, you could contact IPS Cambodia. IPS Cambodia is the most reputable real estate agency in Cambodia that could help you rent an apartment in your budget. Furthermore, if you're confused about whether or not renting an apartment in Phnom Penh is a beneficial option, this blog has got you covered.
Why Opt for Apartments for Rent in Cambodia?
Many people may dream of owning a home, but that doesn't imply everyone should. However, for other folks, renting might be a better option. Here are some explanations as to why renting might be a better option.
Renting allows you to move and not stay in one area for an extended period if you still determine where or how long you want to be there. If your profession requires frequent relocations, it gives you the flexibility to do so fast and easily.
Renters can live practically anywhere, whereas homeowners are restricted to the locations where they can afford to buy. Phnom Penh is the most expensive city in Cambodia. Most property buyers may be unable to afford to reside, but renting is extremely doable.
Unlike homeowners, renters don't have to pay property taxes, upkeep charges, or repair bills.
Amenities that are typically free for tenants are optional for homeowners.
When renting, a security deposit typically equal to one month's rent is required; however, when buying a property with a mortgage, a significant down payment is needed.
Since most leases are year-to-year or month-to-month contracts, upgrading or downsizing when necessary is usually a straightforward process.
Some Cheap Apartments for rent in Phnom Penh, Cambodia
Studio Apartment in Boeung Prolit, Phnom Penh
Rent – $ 350/month
Location – Sreyrith Khiev Apartment, Boeung Prolit, Phnom Penh
Size – 40 sqm.
This 40 sqm studio apartment is for rent at Sreyrith Khiev Apartment, a home complex near Olympia Mall. As you enter, you'll see a small kitchen, eating area, and lounge with a bed in the corner to the right of the balcony. The apartment is completely furnished, with a washing machine, refrigerator, television, air conditioner, and hot/cold water system in the bathroom.
1 Bedroom Apartment in Toul Kork, Phnom Penh
Rent – $ 380/month
Location – Boeung Salang, Toul Kork, Phnom Penh
Size – 65 sqm.
This newly restored penthouse is fully furnished with a gloomy, minimalistic aesthetic. It has a floor size of 65 square metres and a sizable private balcony.
An L-shaped kitchen with ceiling cabinets and shelving, a built-in cooker and sink and a refrigerator is located in the main hall. A basic wooden dining table is placed close, and the lounge with a mounted flatscreen TV is located farther forward next to the balcony. A tall oak dresser, a mid-height mirror, a desk, and a huge bed are all present in the bedroom.
2 Bedroom Apartment in Daun Penh, Phnom Penh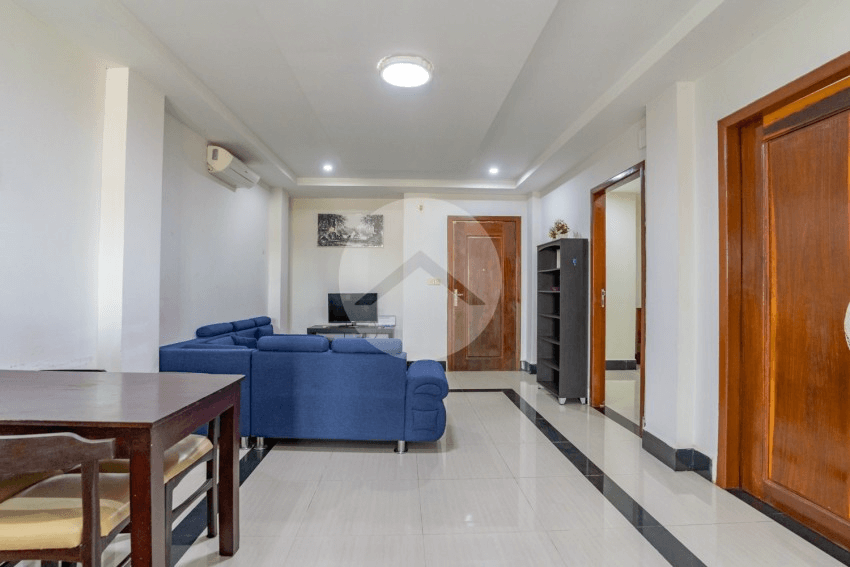 Rent – $ 480/month
Location – Phsar Thmei 2, Daun Penh, Phnom Penh
A large flat conveniently adjacent to the city's main avenues and tourist attractions in Daun Penh. Comprised a spacious living area, a modern kitchen that is fully furnished, a balcony, and two full-sized bedrooms with en-suite bathrooms and plenty of closet space. Complete furniture and home appliances of high quality are included in the price of the property. Additional features include access to the internet, cable television, and cleaning services.
2 Bedroom Apartment in BKK1, Phnom Penh
Rent – $ 500/month
Location – BKK1, BKK, Phnom Penh
A well-built house in a convenient downtown location, ideal for a family seeking decent but reasonably priced housing. From the open-concept living and kitchen area to the two en-suite bedrooms and three bathrooms. It is fully furnished and includes access to the internet and cable television.
How Can A Real Estate Agency Help Find Cheap Apartments for Rent in Phnom Penh, Cambodia?
Your quest for a rental flat in Phnom Penh, Cambodia, can be aided by a real estate agency. The neighbourhoods in Phnom Penh that satisfy your specifications or the residences that fall within your budget and requirements might be recommended by real estate brokers. To allow you to see the property, the agent will schedule showings.
The real estate agency can provide information about fresh listings that suit your rental criteria if you know specifics about rentals you'd want to see. Real estate agencies may be familiar with specific landlords who can offer greater possibilities for negotiating rent. Large apartment complexes are a typical clientele for real estate agents, and they are familiar with their standard fees and rules.
Conclusion
When looking for an apartment in Cambodia, having a local expert is helpful, especially if you're a new foreigner and need assistance locating the ideal location to fit your needs. The real estate agency IPS Cambodia, situated in Phnom Penh, can assist you in renting or purchasing. Their bilingual youthful, enthusiastic team of agents may serve as trusted mediators between you and the seller or landlord while thoroughly outlining each stage of the procedure.