Fontsz.com Review: How it's used for Certification Purpose?
Do you want to look for reliable ways of making certifications for your academics and diploma courses? Then Fontsz.com can help you to get this creativity by giving you a wide range of tools to make official-looking documentation.
This tool can be used productively to make your certification look more official.
As we know there is a specific style of font and writing used on certifications that makes them a distinctive piece. Hence Fontsz will be helpful in this case to make things look official. Various tools by Fontsz.com, such as the Old English Font Generator and Hit Text Generator, are the most common ones that provide your assistance in creating a certification.
These tools are fairly simple to use, and above all, they are absolutely free. To guide you well on how to create authentic-looking certifications, we have written a detailed step-by-step guide for you.
In this article, we will be discussing how Fontsz is used for certification purposes and what type of tools are the most useful ones in it.
Fontsz is the home to more than 25 different types of font styles that make it easier for you. This online platform allows you to create content in a writing style that is not traditionally available in text editors.
For example, if you want to write content in a more prominent-looking font and the option to increase the font size is not helpful, then it is best to use the Big Text Generator.
Similarly, each tool font generator has a dedicated interface that allows you to create, edit, and paste content without any restrictions.
The best part is that this tool is free to use, and you don't even need to log in or sign either. Let me show you a quick demonstration of how you can use this tool to generate content in various styles.
How to Use Fontsz.com
Here we have taken the example of a Strikethrough Text Generator to show you the working of this tool. You can generate content in various types of writing styles by simply following these steps.
1. Go to the tool that you want to use by simply choosing it from the home screen of Fontsz.
2. For example, we have chosen the Strikethrough Text Generator Here you will find an empty text field where you can paste the content directly.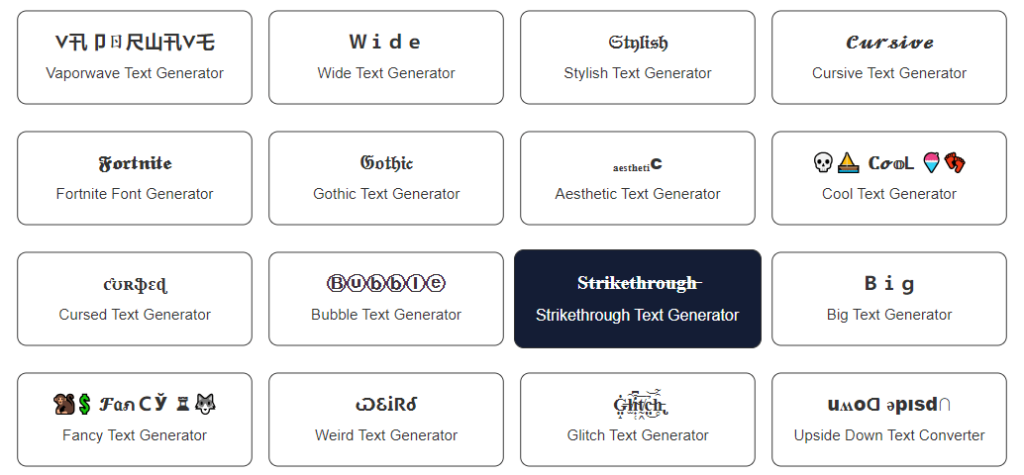 3. If there are more than just a few words and you want to copy the whole file, then simply click the 'File Upload' button on the top left corner of the screen.
4. Once you have provided the text input, the results will appear in the output box.
5. You can directly copy the text from the output box by clicking the copy button, and it will transfer to your clipboard to use in any text field.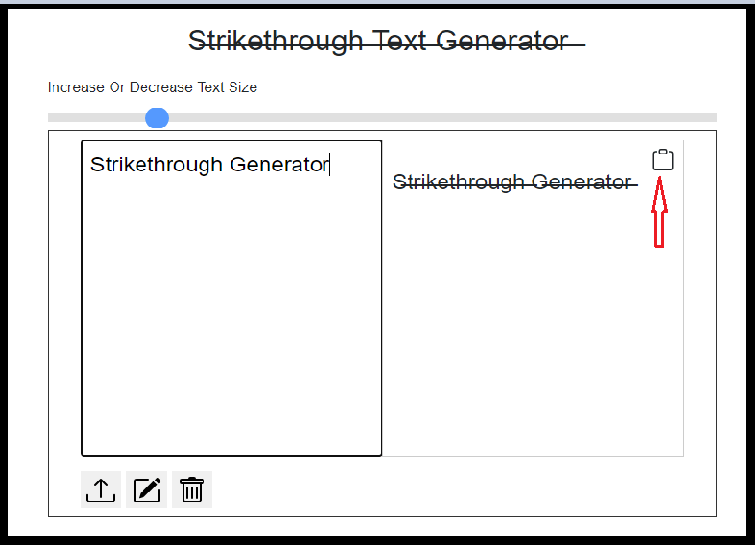 Which Tools from Fontsz are Useful for Creating Certifications?
Now let's talk about how you can efficiently use the tools and generators by Fontsz to create your own certifications that are accurate and authentic looking.
We have compiled this list by using and creating some content by ourselves and concluded that these would be the best options if you want to create certifications by yourself.
The first text generator on our list is the Hit Font. This tool is highly productive and useful if you want to create the headline of your certification.
For example, we used this █▬█ █ ▀█▀ font for writing the name of the institute of educational service under which the certification was issued.

Cursive Text Generator
Cursive Text Generator is another font style that we have commonly seen on various types of educational documents and certifications.
This text usually refers to the text that defines the certificate. For example, you can write the declaration or starting clause of your text like "𝓣𝓱𝓲𝓼 𝓬𝓮𝓻𝓽𝓲𝓯𝓲𝓬𝓪𝓽𝓲𝓸𝓷 𝓱𝓪𝓼 𝓫𝓮𝓮𝓷 𝓪𝔀𝓪𝓻𝓭𝓮𝓭 𝓽𝓸" and things like that.

Old English Font
Last but not least, one is a font style which is probably the most commonly seen on official documents and books. The Old English font can be used to state the headlines or ending clauses of a certification, as we can see in the image below. Most commonly, it can also be used for headliners in the content.
The Good and the Bad of Fontsz.com
Here we have enlisted some of the features that we liked and disliked about the Fontsz that can be relatively improved to make it a more useful and efficient tool for creating certifications.
Pros
No login or signup is required to access any of the tools.
The best thing is that the tool was not being covered by the range of ads popping up every other second.
The file uploading option made it a lot easier for us to change the font style of the certificate all at once.
The real-time output gives you instant results on how the output text will appear in the final form.
The generated text is compatible with showing up on any text field or design for the convenience of editing.
It can be accessed from any web browser.
Cons
All the font style does not have the feature to resize text.
Conclusion
Designing certifications can become a hectic job if you don't have the right tools for it. The certifications feature a specific type of font style and writing designs that are not usually found in common text editors. Hence it makes it limited for us to create certificates on our own.
With the tools and text generators from Fontsz, this job becomes a lot easier. Hence you don't have to be an expert designer for it. Hopefully, you'll now be able to design authentic-looking certificates for free without experiencing any hurdles or issues.